Our Community is Growing.
In the past two months, four new households have joined Rooted Northwest! We're thrilled to welcome members Jack and Clare, Jessica and Peter, Susan, and Tricia. You can find their bios (and those of our other members) here.
If you'd like to have all these lovely folks as neighbors, sign up for an info session to learn more about Rooted and begin your membership journey.
Blackberry Friday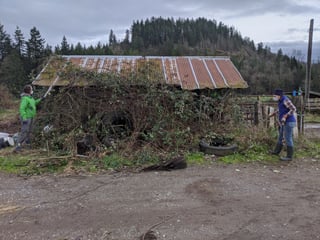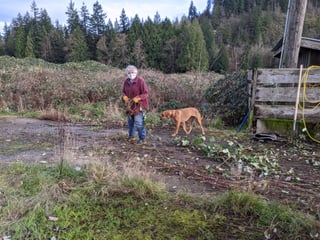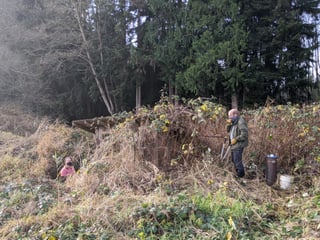 The day after Thanksgiving, Rooted NW members and explorers skipped the malls and headed to the property in Arlington for "Blackberry Friday." Originally planned as a social work party, the day became a socially distanced work party after Washington announced its newest COVID restrictions. Masked, distanced, and armed with snippers, clippers, machetes, and shovels, the team tackled some of the seemingly infinite invasive blackberry thickets around the property.
Success! We can now access a well and second pump house that blackberries had almost entirely hidden from view. Clearing blackberries from another part of the property made one of the buildings more welcoming, and there's now a space to gather around the new fire pit…once we can safely gather 'round the fire pit, that is. We are all looking forward to that time when we can work and play together with ease. In the meantime, join us for Zoom calls and future socially distanced work parties!
What is an Agrivillage?
Today, an acre is defined as a unit of land measuring 43,560 square feet. But before that standard was set, it's believed that an acre represented a rougher measurement—the amount of land that could be plowed in one day by a yoke of oxen. The words "acre" and "agrarian" both derive from the Latin noun ager and the Greek noun agros, variants of which mean "field" and the farmers who cultivate them.The Anglo-French vil, or villa refers to a manorial estate or farmland.
Those ancient roots are combined in the word "agrivillage." In a nutshell, an agrivillage is a small village organized with agriculture as its central theme.It's a contemporary expression of a type of living that has been embraced for millennia under other names and in other places and cultures — a neighborhood that supports and revolves around a thriving farm. Add permaculture to the mix, as with Rooted Northwest, and you have a residential community designed for healthy living, connecting with nature and one another, and member-run micro-enterprises, all within the context of the permaculture ethics of earth care, people care, and fair shares.