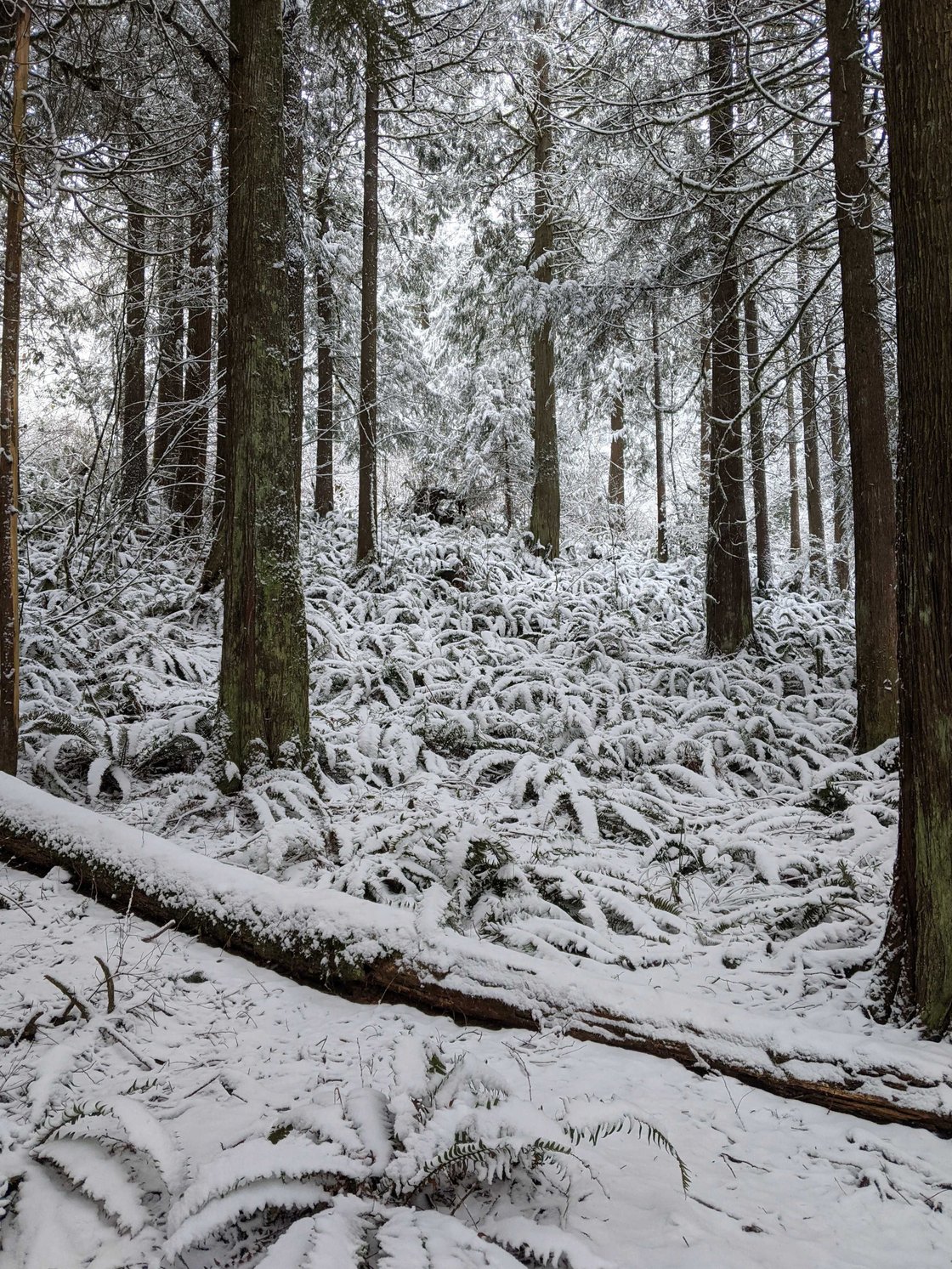 "All that is gold does not glitter, not all those who wander are lost; the old that is strong does not wither, deep roots are not reached by the frost."~J.R.R. Tolkien~
What's Happening Down on the Farm? 
Snow — that's what's happening! We were blessed with lots of the white stuff after Christmas. It turned our already gorgeous land into a stunning winter wonderland. (And the sledding was pretty good too!)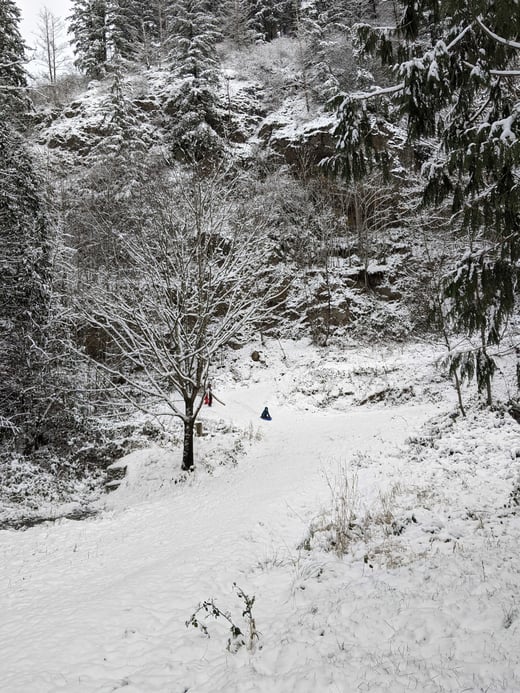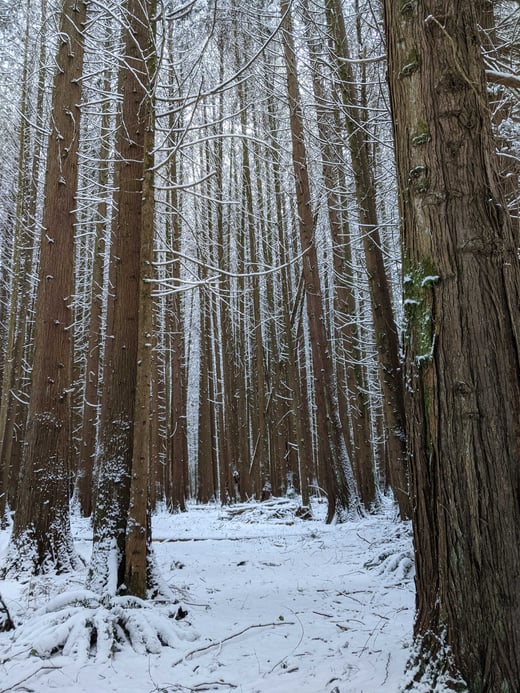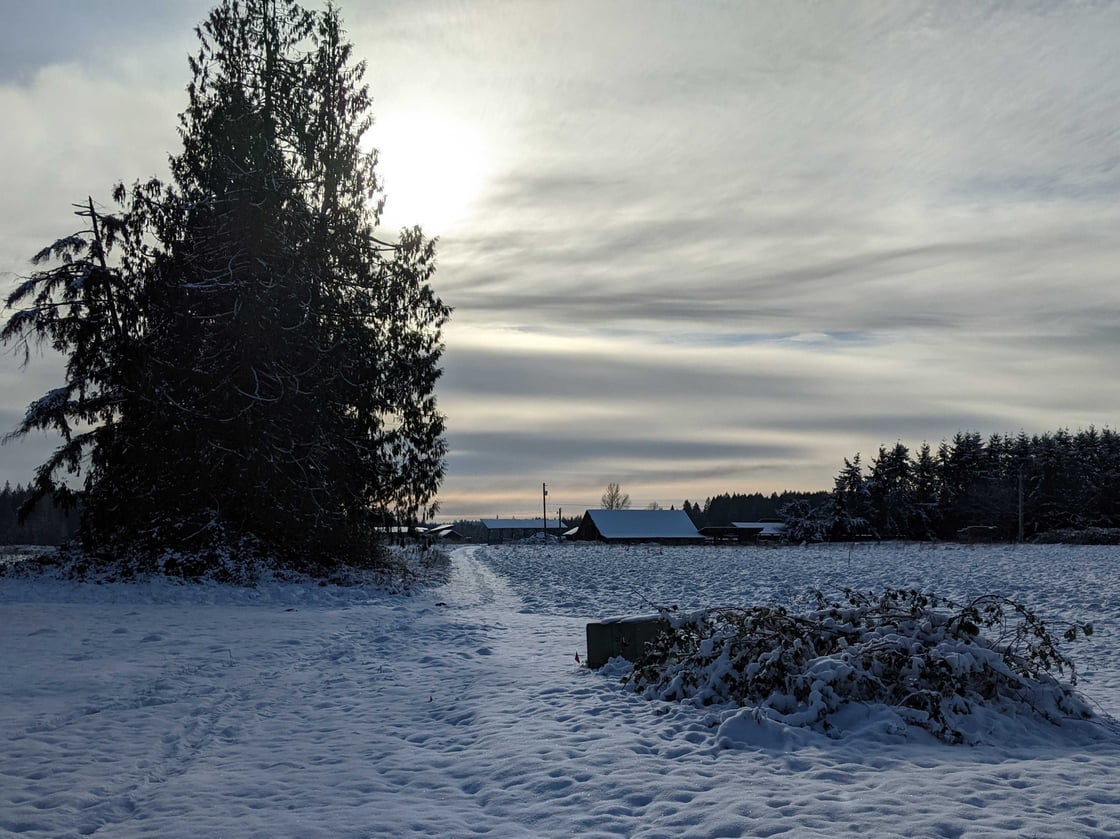 Looking Back and Looking Ahead 
How can we reimagine living together in a way that nurtures and respects all, including the land we inhabit?

Buckminster Fuller said, "You never change things by fighting the existing reality. To change something, build a new model that makes the existing model obsolete."

This thinking informs our vision for Rooted NW.  What began as a dream shared by our founding members has turned into a project gaining momentum and members. 

Here's a brief past and future timeline:

Dec 2015
We have a vision!

2016-2019
Research phase – visiting cohousing communities and conferences, exploring forms of governance, hiring consultants, drawing up criteria for the land — at least 100 acres,  at least 100' elevation, no more than 2 hours from Seattle

Jan 2021
Committed to 240 glorious acres in Arlington (2019) 5 Member households (Aug 2020)Land purchase (Sept 2020)10 Member households

Summer 2021
Dug a well and built a gravel road

Dec 2021
20 Member households

Summer 2022
Design common house
First harvest of crops grown at Rooted NW

Fall 2022🤞
Approval of Preliminary Plat

2023
Final design submittal, goal of 28-30 households

2024
Final Plat approval, begin construction, add final 5-7 households

2024/2025
Move-in

The efforts of many hands and hearts have put this dream in motion and will continue to encourage it forward.

We are so excited to see what develops in 2022 and beyond!
Meet a Member: Meet Brett.
Brett is a farmer who loves to grow delicious food for the local community at his current farm, Reconnecting Roots.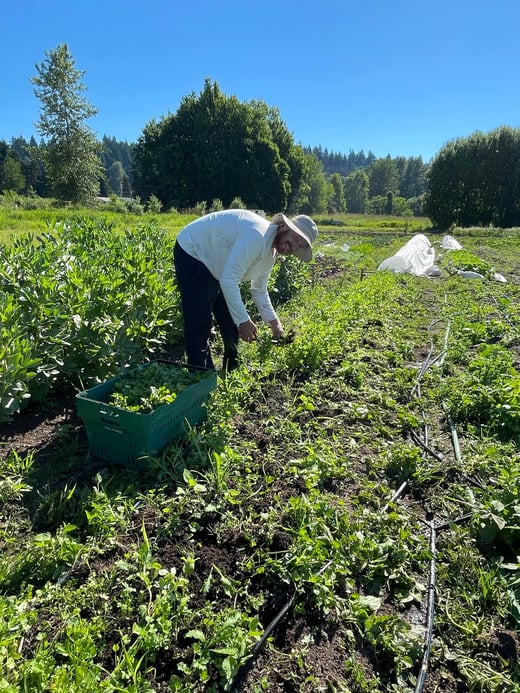 "I am excited about moving my farm to Rooted NW this spring. I look forward to growing a diverse array of produce for the local community. I am passionate about creating a local food system where communities have access to sustainably grown, nutritious food and have a direct connection to the farms and the farmers who grow their food. At Rooted NW I would love the opportunity to work with other farmers to develop enterprises that can collaborate to create a truly sustainable, local food system."
New Members & Explorers
Congratulations to Christine, our newest member! We also look forward to getting to know the FIVE new explorer households who signed up in December — Maia and Alex, Diane, Ashley and Morgan, Maizie and Bill, Lou, Sandy, and Kingfisher — welcome! We are almost full!  If you are interested in learning more about our project and availability, we have an online Zoom info session scheduled for Sunday, January 23 from 1:00 – 3:00pm PST. Sign up here.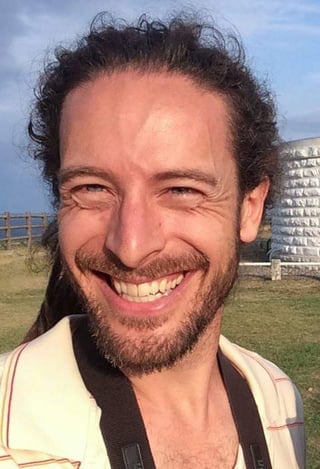 Permaculture Dave says: "January is the time to take an inventory of leftover seeds and test them for viability. Fold about a dozen seeds inside a damp paper towel and place them inside a plastic bag in a warm place. Keep an eye on them and count how many germinate within the expected time per the seed packet. If the germination rate is less than four, throw out the packet and buy some new seeds!" Dave Boehnlein – Rooted NW Memberand Permaculture Author/Educator
Join us! Want to learn more about how we're combining co-housing and regenerative agriculture to create a dynamic new community in Arlington, Washington?  Sign up for an info session or subscribe to this newsletter at rootednw.org. And be sure to check us out on Instagram and Facebook.  Photos by Rooted NW members.