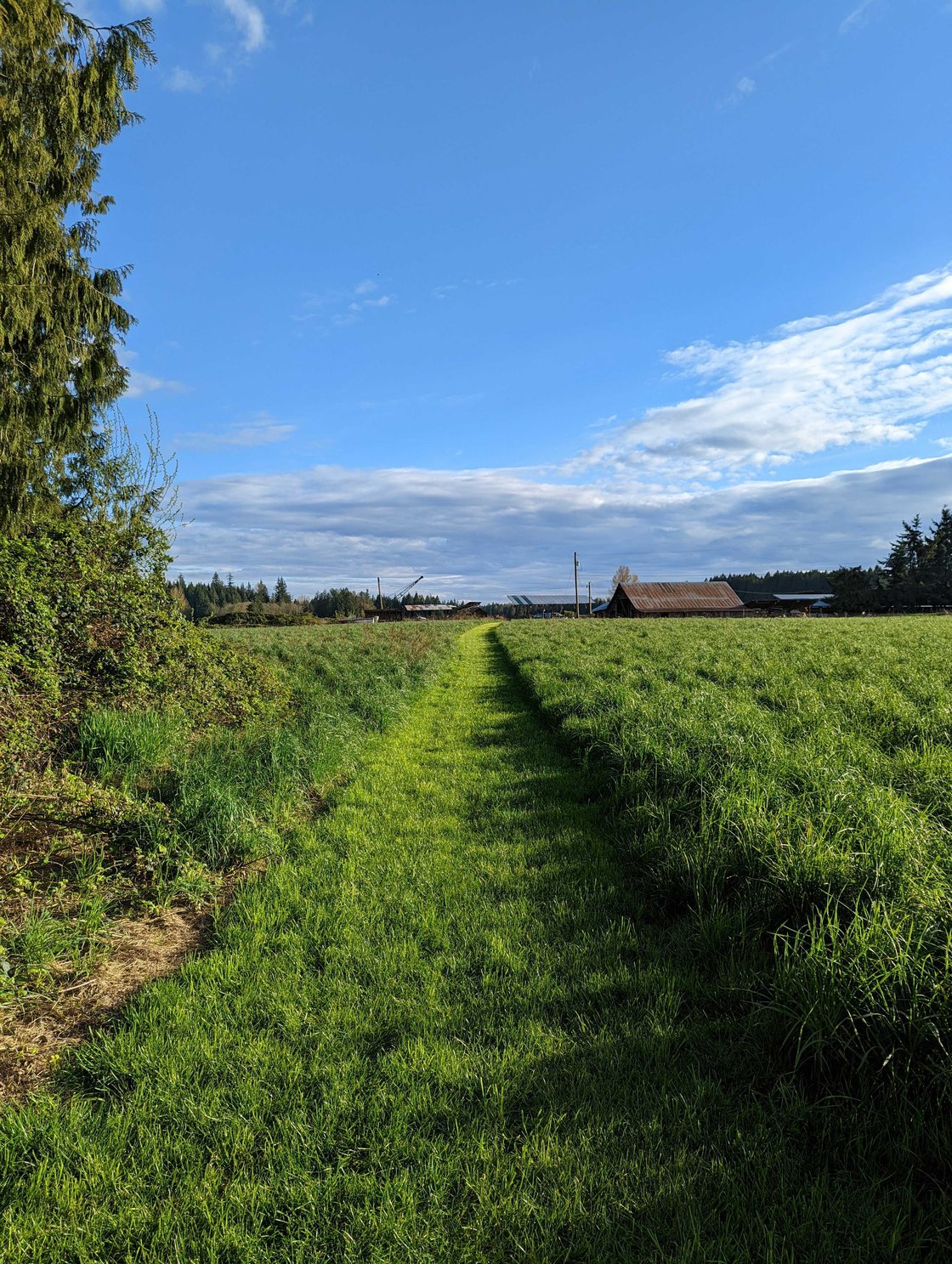 "And into the field I go, to lose my mindand find my soul." – Anonymous
What's Happening Down on the Farm? 

Operation Pond Liner! Thanks to the Helping Hands Food Bank, we were able to collect the used pond liners from their food forest to use as a natural, effective method to smother tenacious patches of less-desirable plants around the property such as morning glory and reed canary grass. It was heavy, sweaty work, and we were extra grateful to all the volunteers who rolled, lifted, and persevered throughout a long, tiring day. We hope they all got a good long soak in a hot bath when all was said and done — they certainly deserved one!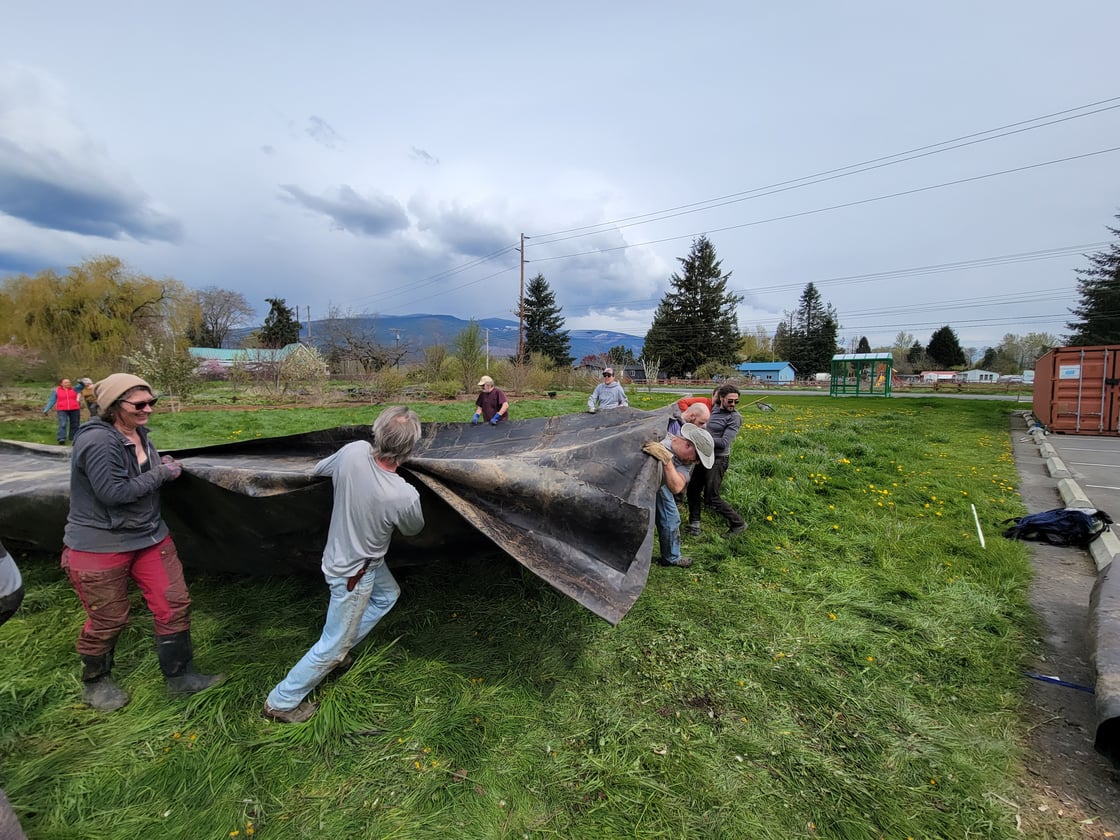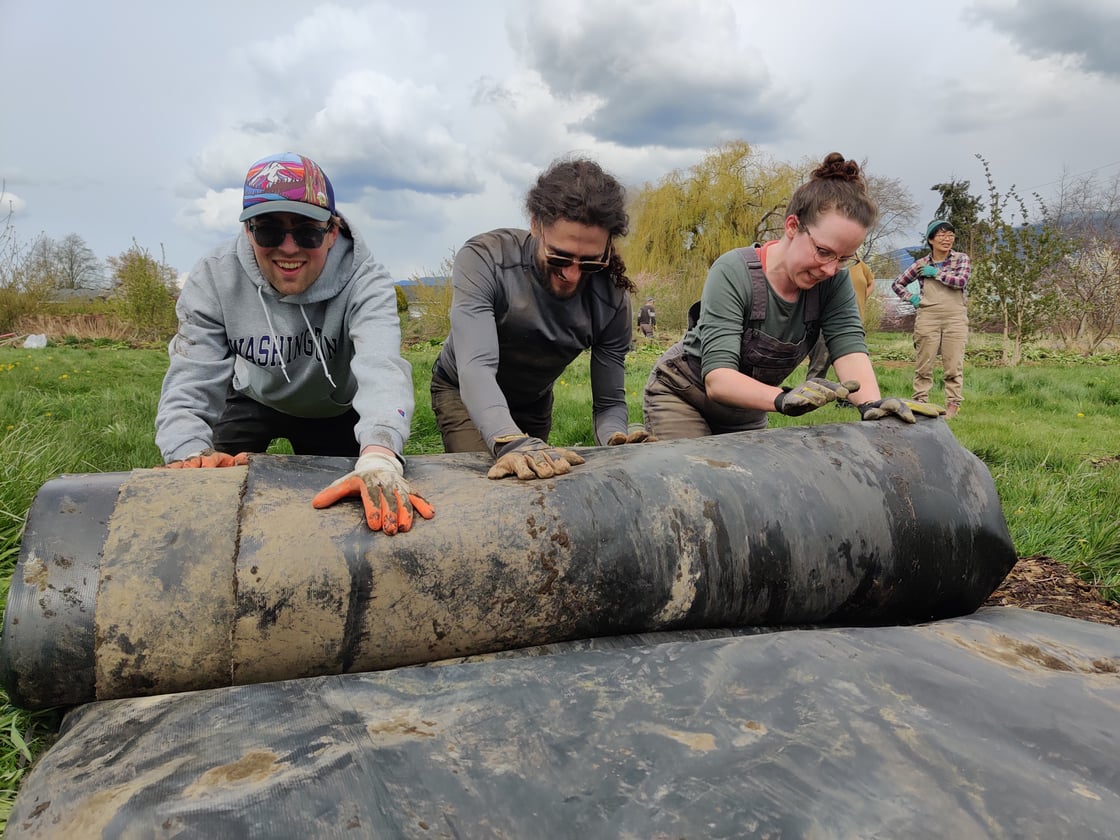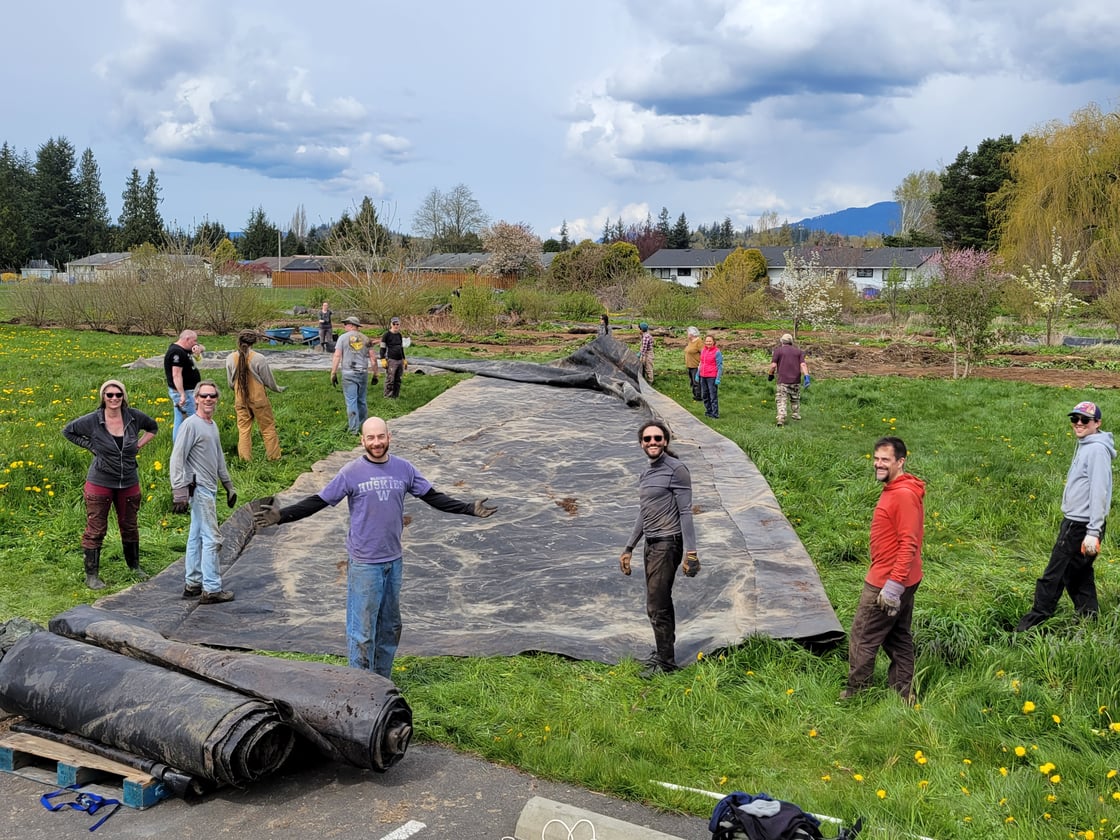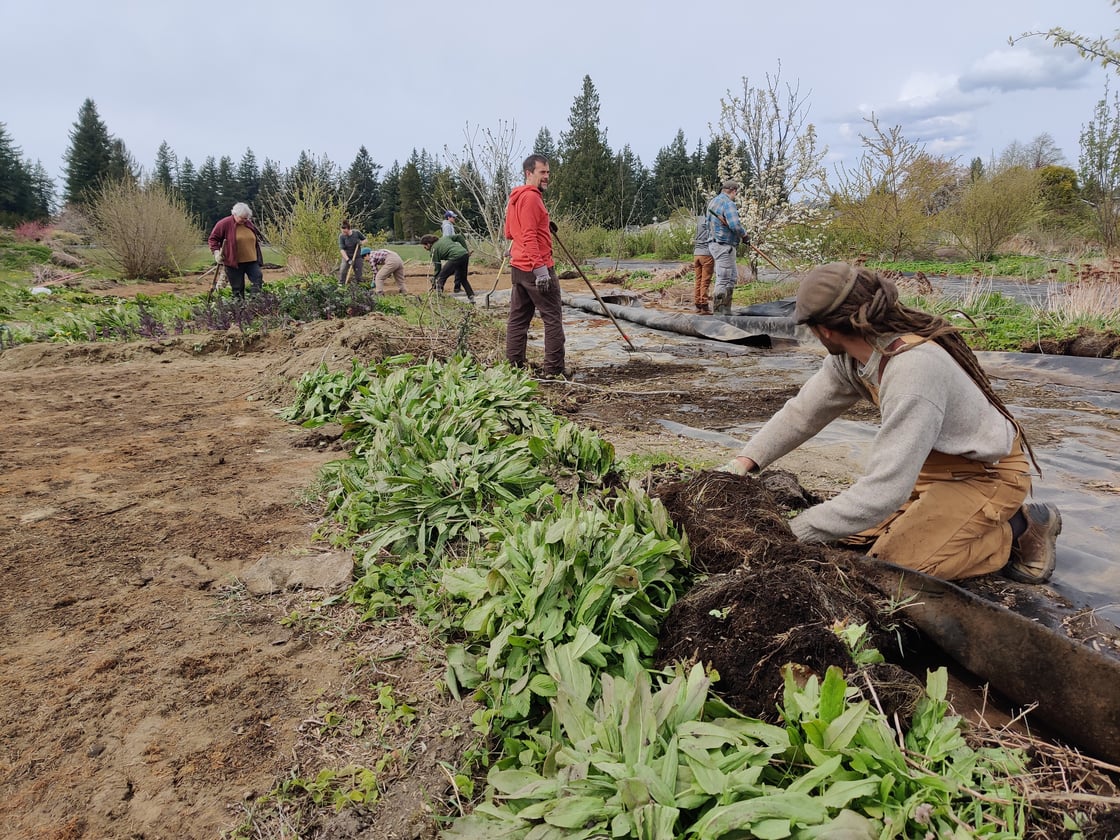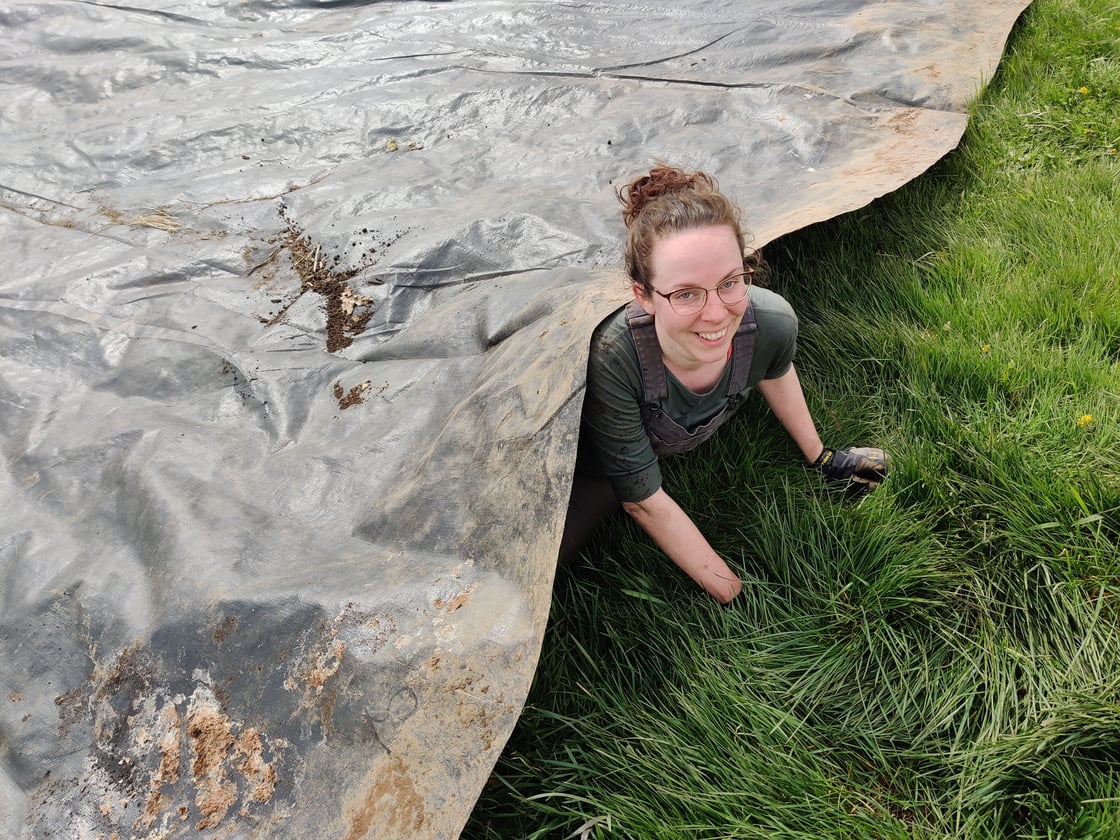 iNaturalist @ Rooted NW 

Rooted NW member Diane has started a project on iNaturalist to gather information on native bees and other wildlife at Rooted NW. How does it work?  Using our phone cameras we will observe and record the wildlife we encounter on the farm using the iNaturalist app. By participating in iNaturalist, we will be contributing to biodiversity science by sharing findings with scientific data repositories like the Global Biodiversity Information Facility. That makes us citizen scientists! One fun aspect of the app is the ability to hold a "bioblitz" event where people try to find as many species as possible!  Watch this space for such an event this summer.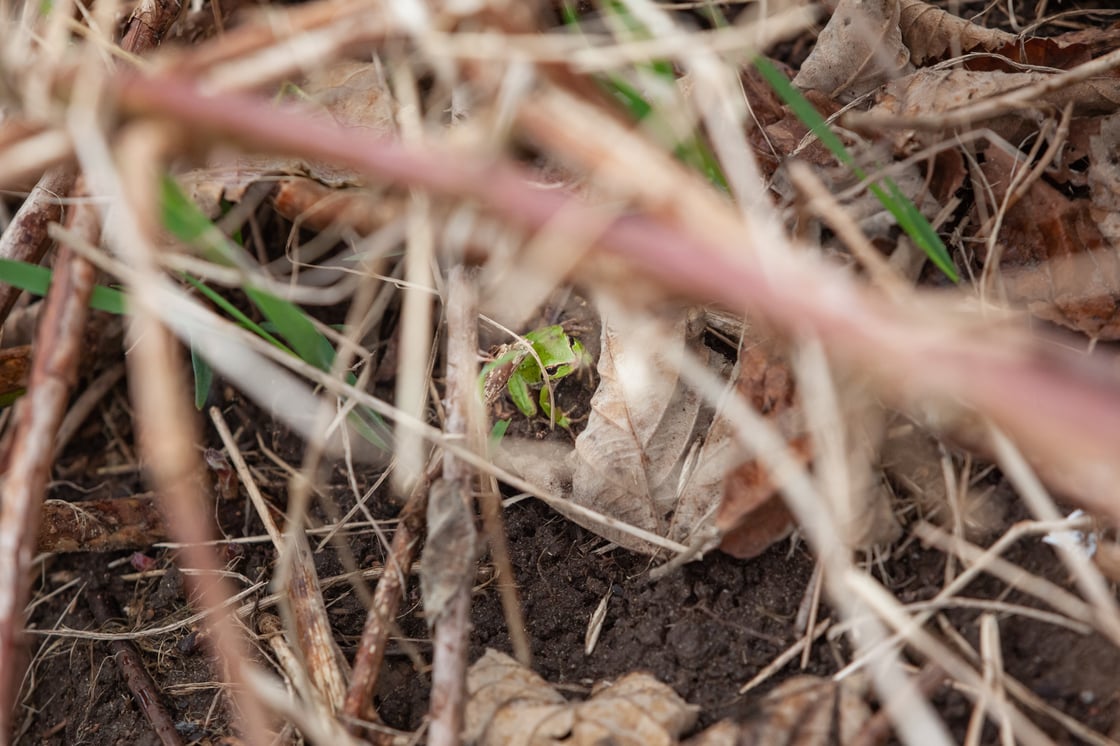 This tree frog was spotted on the land by photographer and Rooted NW member Morgan Keuler.
Meet a Member: Meet Laurie! 

Laurie's vision is to help initiate a Rooted NW non-profit for growing, processing, and donating fresh produce to those in need, as well as supporting Rooted NW's educational mission to teach sustainability and permaculture.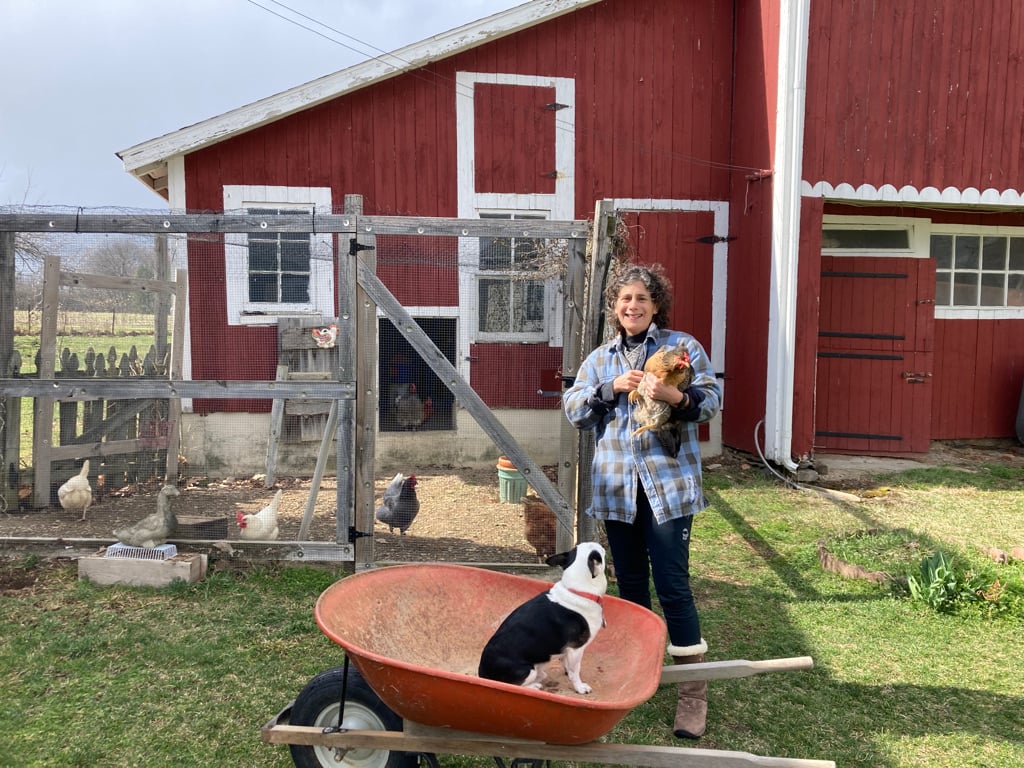 Laurie at her farmette in Pennsylvania (canine companion Pepe in the wheelbarrow)
"In these uncertain times, many folks struggle to make ends meet. So, I'd like to support and empower those who are vulnerable by leveraging my farming, CEO, and teaching experiences. I'm heartened that decades of tending to our apple orchard, making cider, raising chickens, growing food, and, just this year founding Red Sol Farm, are laying the groundwork for offering nourishment and sharing knowledge."
New Members & Explorers 

In April we welcomed Morgan as the 25th member of the Rooted NW family! New explorers David & Emma, Janet & Marsha, and Steffi & Don also joined our bustling team. Great to have you all on board!  We are nearly full and plan to prioritize farmers and move others to an "interest list" for now.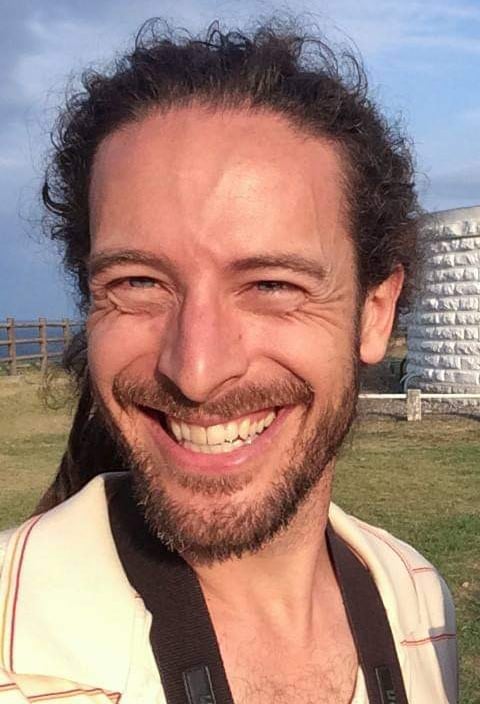 Permaculture Dave says: "Got problems with slugs eating your garden veggies? You can find lots of advice about using sluggo, copper, beer traps, etc. Well, one technique that has worked really well for me it a heavy mulch of lawn clippings. After I plant, I put about 4″ of lawn clippings around my starts as a thick mulch. Over time this grass will dry and form a thatch mat. In addition to retaining soil moisture in the summer and suppressing weeds, I've found that slugs don't seem to like crawling across it. I'm guessing the tiny pieces of grass stick to them and they really have to ramp up slime production to get it off. Note that mulching a bed early in the season before it's warmed up may keep it cooler later, so this trick is probably best for your cool season crops. Also, avoid piling the mulch too deep or mounding it up around the starts. The fresh lawn clippings can heat up as they start to compost and you wouldn't want to damage your tender starts. Enjoy the sweet late spring weather!" 

Dave Boehnlein – Rooted NW Member and Permaculture Author/Educator
Join us! Want to learn more about how we're combining co-housing and regenerative agriculture to create a dynamic new community in Arlington, Washington?  Sign up for an info session or subscribe to this newsletter at rootednw.org. And be sure to check us out on Instagram and Facebook.  

Photos by Rooted NW members and explorers. Special thanks to Morgan K for the work party shots!